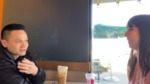 Biography
The Tran is the owner of a Vietnamese restaurant in Salinas, California, called Saigon Noodles, located just a short distance away from the Northridge Mall. The Tran was born in Vietnam near the capital of Saigon, now called Ho Chi Min City, and later immigrated to the United States as a young adult. Growing up, The always ate Vietnamese food, and his favorite food was Vietnamese noodle soup, also called pho. About five years ago, in 2018, The opened Saigon Noodles with his brother and his wife, Yen Tran, who continues to help him at the restaurant. They named their restaurant Saigon Noodles due to his love of pho and the fact that Saigon is a well-known name connected to Vietnam and his upbringing. It took a couple of years for the business to build up customers, but over time their restaurant has become successful and is a favorite eatery among the local Salinas population.
Summary of Transcript
(0:00) The interview begins. 0:12 The Tran introduces himself and states that he opened the business 5 years ago. (1:12) The explains why he named the restaurant Saigon Noodle and the origins of the word Saigon. (1:49) The explains where he was born in Vietnam. (3:38) The explains how he gets the ingredients and how much they cost. (5:20) The talks about the various kinds of people who come to eat at his restaurant. (7:30) Yen explains some discrepancies between customers not knowing how to eat Vietnamese food, like rare beef pho (8:40) The discusses his favorite meals growing up in Vietnam. (9:31) The describes how they make their soup. (11:13) The describes how they had to close the restaurant due to covid. (12:20) Yen explains the different toppings they use and how important the flavor is. (13:20) The and Yen talk about how Vietnamese food is healthy. (14:00) The interview is over.
Interviewer
Alyssa Powell
Recommended Citation
Powell, Alyssa, "Interview with The Tran and Yen Tran (Saigon Noodles)" (2022). Pacific Food Empires. 15.
https://digitalcommons.csumb.edu/asia-pacific-foodways_interviews/15
Photographs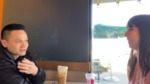 COinS