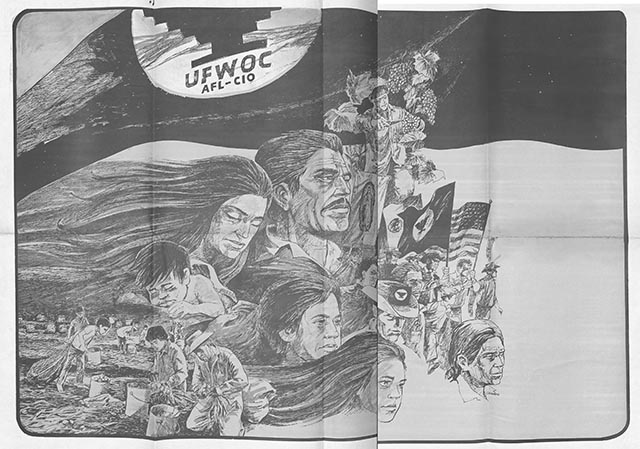 *El Malcriado Newspaper Exhibit. Collection was curated by Illiana Zambrano (Research & Instruction Librarian). Feel free to contact our Archives & Special Collections to view the physical archival material.*
*Disclaimer: Most of El Malcriado can be accessed digitally through the link provided. However, this virtual display of the newspaper that has been digitized comes from CSUMB archival repository. Only select photographs and articles that highlight different aspects of the farm worker labor movement and Chicano/as & Hispanics/Latinx culture and experiences have been included. Most images/articles included will be in English, Spanish, Filipino, or bilingual. If you would like to take a close look at the physical newspapers, please set an appointment with the Archival Department.
*Aviso: Se puede acceder a la mayor parte de El Malcriado digitalmente a través del enlace proporcionado. Sin embargo, esta visualización virtual del periódico que ha sido digitalizado proviene del depósito de archivos de CSUMB. Solo se han incluido fotografías y artículos seleccionadas que resaltan diferentes aspectos del movimiento laboral de los trabajadores agrícolas y la cultura y las experiencias de los Chicanos/as e Hispanos/Latinx. La mayoría de las imágenes/artículos incluidos estarán en Inglés, Español, Filipino, o Bilingüe. Si desea ver de cerca los periódicos físicos, programe una cita con el Departamento de Archivo.
El Malcriado
El Malcriado was a newspaper developed in the 1960s by farm workers as an avenue for them to share their experiences. They documented their labor struggles and the efforts of the United Farm Workers Union (UFW) to obtain fair labor contracts. This newspaper is a record not only of the solidarity that grow in support of farm workers rights, but the internationally solidarity steamed from the struggle.
As you go through the exhibit, I encourage you to look through it with compassion. And remember that the articles and photographs included are those from the perspective of farm workers, immigrants who faced and continue to face numerous hardships and injustices.
---
El Malcriado fue un periódico desarrollado en la década de 1960 por trabajadores agrícolas como una vía para compartir sus experiencias. Documentaron sus luchas laborales y los esfuerzos del Sindicato Unido de Trabajadores Agrícolas (UFW) para obtener contratos laborales justos. Este periódico es un registro no solo de la solidaridad que crece alrededor y en apoyo de los derechos de los trabajadores agrícolas, sino también de la solidaridad internacional.
Mientras recorre la exposición, le animo a que la mire con compasión. Y recuerde que los artículos y fotografías incluidos son aquellos desde la perspectiva de los trabajadores agrícolas, inmigrantes que enfrentaron y continúan enfrentando numerosas penurias e injusticias.
Browse the El Malcriado Newspaper Collections: