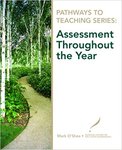 Title
Pathways to Teaching Series: Assessment Throughout the Year
Description
Schools have undergone enormous change in the last ten years in response to the standards movement. New teachers will face the challenge of meeting state curriculum standards and new forms of assessment that derive in part from the No Child Left Behind policy. As part of the "Pathways to Teaching Series", Assessment Throughout the Year offers a brief, practical, and accessible text for teachers who need help mastering the skills of standards-based assessment and collaborative planning for this new teaching environment.
This book on classroom-based assessment can help teachers, especially those new to the classroom, to plan their instruction at the beginning of the school year based on the standards assessment data, find alternative forms of cumulative assessment to evaluate student achievement as described in the state or district standards, and to design teaching practices to meet the curriculum pacing and benchmark assessments of the school year. Learning objectives, chapter introductions, graphic organizers, and essential vocabulary at the beginning of each chapter prepare the reader for the content to follow.
This text is intended to help teachers prepare for the assessment experiences they will encounter throughout the school year. In this climate of school reform, it can also reinforce conventional instruction in the principles of testing and measurement and provide new approaches to assessment practices.
Series
Pathways to Teaching
Department
Education and Leadership
Recommended Citation
O'Shea, Mark, "Pathways to Teaching Series: Assessment Throughout the Year" (2009). Faculty-Authored Books. 31.
https://digitalcommons.csumb.edu/fac_books/31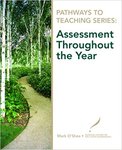 COinS