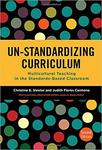 Title
Un-Standardizing Curriculum: Multicultural Teaching in the Standards-Based Classroom
Description
In this second edition of her bestseller, Christine Sleeter and new coauthor Judith Flores Carmona show how educators can learn to teach rich, academically rigorous, multicultural curricula within a standards-based environment. The authors have meticulously updated each chapter to address current changes in education policy and practice. New vignettes of classroom practice have been added to illustrate how today's teachers navigate the Common Core State Standards. The book's field-tested conceptual framework elaborates on the following elements of curriculum design: ideology, enduring ideas, democratized assessment, transformative intellectual knowledge, students and their communities, intellectual challenges, and curriculum resources. Un-Standardizing Curriculumshows teachers what they can do to "un-standardize" knowledge in their own classrooms, while working toward high standards of academic achievement.
Book Features:
Classroom vignettes to help teachers bridge theory with practice in the context of commonly faced pressures and expectations.
Guidance for teachers who want to develop their classroom practice, including the possibilities and spaces teachers have within a standardized curriculum.
Attention to multiple subject areas and levels of schooling, making the book applicable across a wide range of teacher education programs.
A critique of the tensions between school reforms and progressive classroom practice.
Series
Multicultural Education Series
Publisher
Teachers College Press
Department
Education and Leadership
Recommended Citation
Sleeter, Christine E.; Flores Carmona, Judith; and Banks, James A., "Un-Standardizing Curriculum: Multicultural Teaching in the Standards-Based Classroom" (2016). Faculty Bookshelf. 55.
https://digitalcommons.csumb.edu/fac_books/55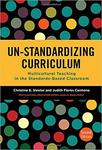 COinS