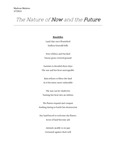 Description
Brushfire
Living in the Central Valley, I have become very familiar with hearing about fires. We get very little rain and everything is very dry surrounding the valley, making it very for the land to be set ablaze. I wanted to share a piece that sort of described the setting of how a fire around here starts and the lifespan of the fire.
A Future Without People
I wanted to write about the earth long into the future when humans have died off and it is just animals left to roam the world. I feel like there are so many ways to look at the future since no one can truly predict what's going to happen, I wanted to write about just one of the infinite possibilities of the future.
Keywords
Fire, drought, dry-land, destruction, natural disaster, Central Valley, Future, dystopian, nature, animals, life
Recommended Citation
Mederos, Madison N., "In-depth project: The Nature of Now and the Future" (2021). HCOM 434 Weekly Response Activities. 38.
https://digitalcommons.csumb.edu/hcom434_spring2021/38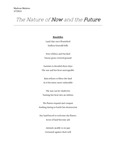 COinS