A Description of the Scope and Content of the Hornbeck Collection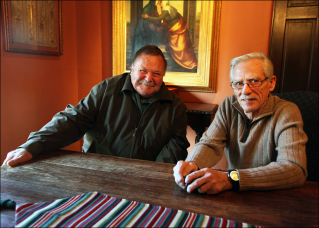 Drs. Robert Hoover and David Hornbeck, Jr. during the course of an interview convened by Dr.Rubén Mendoza at Mission San Carlos Borromeo on January 23rd of 2014. Photo © Rubén G. Mendoza, PhD., 2014.
The Hornbeck Collection consists of an academic repository found on the CSU Monterey Bay Digital Commons website of the Tanimura & Antle Family Memorial Library. Items contained in the repository afford visitors the opportunity to review the history of land use in California from the perspective of primary source documents. Now available to the general public, the Hornbeck Collection provides access to a broad range of historic land use documents for use by scholars, students, community planners, water resource managers, and legislators. While the Hornbeck Collection is projected to include primary source documents pertaining to the whole of the State of California, initial buildout of the Hornbeck Collection addresses those documents and maps specific to the Salinas River and Carmel River Basin areas of Monterey and San Luis Obispo Counties.
Our prime focus is with regional considerations borne of a number concerns, not the least of which include the following:
The locus of the Hornbeck Collection proper, which is housed at the Monterey County Historical Society.
The ancient cultural history of the region which spans aboriginal Californian through Spanish colonial, Mexican, and early American developments with a direct bearing on the exploitation of said Basins.
The region's place as the center of large-scale commercial agriculture centered on the aforementioned Basins.
The relevance of governmental and proprietary boundaries to current studies of Basin water resources by the U.S. Department of the Interior's Bureau of Reclamation.
The extant documentary record pertaining to the history of research conducted in the Basins.
The prospects of deploying a methodology that encompasses resources such as those specific to the Hornbeck Collection for interpreting the geological, hydrographic, and cultural history of governmental and proprietary boundaries within river basins from across the State of California.
While many of the primary source documents contained within the CSU Monterey Bay Digital Commons-based Hornbeck Collection have been made available to the general public for the first time, it should be noted that the collection is not intended to be definitive insofar as repositories are concerned. Rather, we envision that this repository of publicly-available primary source documents will continue to grow as more information and primary source documents become available.