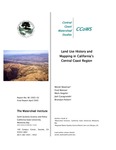 Subject
This report covers 1) the long history of land use changes throughout the central coast region of California, 2) maps and mapping programs existing prior to this report, and 3) the use of satellite remote sensing based approach to mapping land use and land cover.
Description
Land use change has a long history in the region, which once held the State Capitol at Monterey. The region been transformed several times, following the introduction of Europeans and their grain crops in the 1800s, the development of groundwater-based irrigation in the late 1920s, and the expansion of vineyards and urban areas in more recent years.
Land management must be aware of the history of the land, and of its current spatial state. The early chapters of this report review the major land use systems of the region and their history. The latter chapter presents a new remotely sensed land use map of the region. The report was prepared within the context of sediment source analyses (Watson et al., 2003). Reference is made to erosion from certain land types where appropriate.
Source
The Watershed Institute, California State University, Monterey Bay
Disciplines
Arts and Humanities | Education | Life Sciences | Social and Behavioral Sciences
Recommended Citation
"2003, April – Land Use History and Mapping in California's Central Coast Region; Report No. WI-2003-03; Newman, W. B, Watson, F.G.R," (2017). Miscellaneous Monterey and San Luis Obispo County Documents and Reports. 15.
https://digitalcommons.csumb.edu/hornbeck_cgb_5/15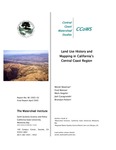 COinS