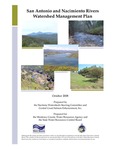 Subject
The goal of Nacimiento/San Antonio River Watersheds Management Plan is to protect water quality and watershed uses for all stakeholders.
Description
The purpose of the San Antonio and Nacimiento Rivers Watersheds Management Plan is to identify the existing conditions of and stresses in these watersheds as they relate to water quality, and recommend methods for reducing or eliminating those stressors such as alternative land use practices. The plan was created to:
􀂃 The reservoirs and their respective watersheds are the source for water recharging the Salinas Valley groundwater basin.
􀂃 There is a direct correlation between the health of these watersheds and the supply and quality of water for the Salinas Valley.
􀂃 The Salinas Valley's population and economy are dependent on a long-term supply of high quality water from those watersheds, and on protection from floods.
􀂃 The reservoirs also provide ancillary benefits of recreation and habitat enhancement.
Source
Monterey County Water Resources Agency
Disciplines
Business | Education | Engineering | Law | Life Sciences | Physical Sciences and Mathematics | Social and Behavioral Sciences
Recommended Citation
"2008 - San Antonio and Nacimiento Rivers Watershed Management Plan" (2018). Miscellaneous Monterey and San Luis Obispo County Documents and Reports. 35.
https://digitalcommons.csumb.edu/hornbeck_cgb_5/35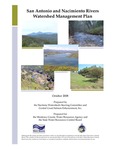 COinS