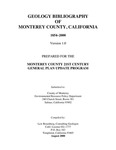 Subject
Compilation of data pertaining to Monterey County geology, soil, water resources and water quality
Description
The scope of this database is much broader in scope than the original list of consultant reports submitted to Monterey County governmental agencies and includes extensive references on regional geologic mapping, hydrogeology, economic geology, and research done in connection with the Parkfield Earthquake Prediction Experiment.
Major sources of information include:
• Monterey County Planning Department: a database of approximately 2,000 references within the
categories of geology, soil, water resources, and water quality.
• Monterey County Water Resources Agency.
• Monterey Peninsula Water Management District.
• The American Geological Institute's GeoRef database.
• The U.S. Geological Survey's National Geologic Map Database.
• An online bibliography of research conducted in the northern Santa Lucia Mountains, Big Sur, and surrounding area published for the Santa Lucia Natural History Symposium (sponsored by Esalen Institute and University of California Big Creek Reserve, 1994–1997).
• Library catalogs of the U.S. Geological Survey, University of California, California State University, Stanford University, and the California Institute of Technology.
The list of nearly 4,300 references was prepared to further the County of Monterey's 21st Century General Plan Update in order to have the most complete data available for planning and policy decisions.
Source
County of Monterey
Disciplines
Arts and Humanities | Business | Education | Life Sciences | Physical Sciences and Mathematics | Social and Behavioral Sciences
Recommended Citation
"2000 - Geology Bibliography of California, 1854–2000" (2018). Miscellaneous Monterey and San Luis Obispo County Documents and Reports. 38.
https://digitalcommons.csumb.edu/hornbeck_cgb_5/38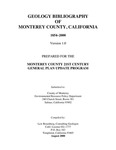 COinS