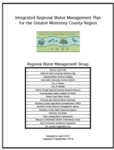 2018 - Integrated Regional Water Management Plan of the Greater Monterey County Region - Updated
Description
Integrated regional water management (IRWM) is an approach to water resource management in California that is being strongly promoted by the State as a way to increase regional self-sufficiency. IRWM offers an approach for managing the uncertainties that lie ahead, particularly in light of climate change. The IRWM planning process brings together water and natural resource managers, along with other community stakeholders, to collaboratively plan for and ensure the region's continued water supply reliability, improved water quality, flood management, and healthy functioning ecosystems—allowing for creative new solutions and greater efficiencies. This IRWM Plan has been developed for the Greater Monterey County IRWM region to fulfill the goals of IRWM planning in this region and to provide eligibility for State IRWM grant funds.
The Greater Monterey County IRWM Plan was first developed in 2012-2013 according to Proposition 84 2012 IRWM Grant Program Guidelines, and was updated in 2017-2018 to comply with Proposition 1 2016 IRWM program standards. The authors used the former Salinas Valley IRWM FEP as the foundation for developing the Greater Monterey County IRWM Plan, expanding the FEP's scope in terms of geography, Regional Water Management Group (RWMG) representation, and stakeholder representation. The Greater Monterey County RWMG would like to recognize and thank RMC and the Salinas Valley Water Management Group for its early work in developing the Salinas Valley IRWM FEP.
This paper has been withdrawn.