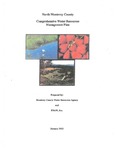 Subject
A comprehensive plan to manage water resources in the North Monterey County area combining water conservation, water supply, water quality and land use actions into policy alternatives.
Description
North Monterey County experiences severe water supply and quality problems including falling water levels, seawater intrusion, and nitrate contamination. The region is in a significant state of overdraft where current demands greatly exceed the annual level of recharge. Without increased supplies, dramatic changes need to occur to the North County land use pattern to reduce demand. The Comprehensive Water Resources Management Plan combines water conservation, water supply, water quality, and land use actions into comprehensive policy alternatives. It is clear, however, that capital facilities are necessary if the problem is to be solved.
The study area overlies a portion of the Salinas and Pajaro River groundwater basins. The Pajaro sub-basin consists of the Springfield Terrace, Pajaro, and Highlands North sub-areas.
Source
Monterey County Water Resources Agency
Disciplines
Business | Education | Engineering | Law | Life Sciences | Physical Sciences and Mathematics | Social and Behavioral Sciences
Recommended Citation
"2002 - North Monterey County Comprehensive Water Resources Management Plan" (2019). Monterey County Water Resources Agency Water Reports. 28.
https://digitalcommons.csumb.edu/hornbeck_cgb_6_a/28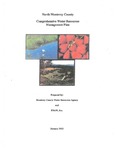 COinS