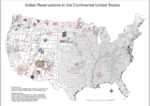 Subject
Bureau of Indian Affairs map depicting location of Federal Indian reservations on continental United States.
Description
This map shows the location of Federal Indian Reservations in the continental United States. The map was compiled by the Bureau of Indian Affairs in ARC/INFO format at a scale of 1:2,000,000. The BIA map data was subsequently adjusted by the Center for Advanced Spatial Technologies to a scale of 1:5845860 using a Lambert Azimuthal Equal Area Projection. Map numbers indicate the locations of Indian reservations within the continental United States. Both Federal and State Reservations are displayed. The key to reservation names is available on the accompanying reservation index.
Source
National Park Service, U.S. Department of Interior.
Disciplines
Arts and Humanities | Education
Recommended Citation
"1996 - Indian Reservations in the Continental United States with Numerical Index" (2017). Maps. 2.
https://digitalcommons.csumb.edu/hornbeck_ind_2/2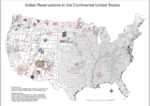 Included in
COinS