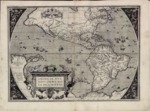 Subject
The 1588 map by Abraham Ortelius depicts what was known at the end of the 16th Century about America and lands beyond, including New Guinea and, Solomon Islands and a portion of Australia.
Description
Flemish cartographer Abraham Ortelius' 1588 map showing the American continents, Solomon Islands, New Guinea and a portion of Australia was the third plate used for his maps of the American continent. This is the first map to use the name of California for the region known now as Baja California (depicted as a peninsula), as well as noting C. Mendocino further north. Map also reflects rivers, mountains and population centers.
Source
Cartographic and Study Archive, Geographic Center of the Army, Madrid, Spain.
Disciplines
Arts and Humanities | Education | Social and Behavioral Sciences
Recommended Citation
"1588 - Americae sive Novi Orbis nova descriptio - Cum privilegio decennali Ab. Ortelius delineab. et excudeb. 1587" (2017). Pre-1824 Maps. 21.
https://digitalcommons.csumb.edu/hornbeck_spa_1_a/21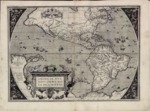 COinS