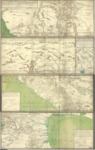 1769 – Mapa, que comprende la Frontera, de los Dominios del Rey, en la America Septentrional. José Urrutia and Nicolas de la Fora.
Description
A detailed 1769 map of the internal provinces of New Spain (Northern Mexico and Southwest United States) prepared as a result of the 1766-1768 expedition to survey presidios and defenses of northern New Spain. It includes administrative boundaries, pictorial representation of relief and selected European and Native American towns, as well as settlements, fortifications (presidios), mines, missions, haciendas, Native American nations, rivers, streams, lakes, coastlines and coastal features. The four sheets are numbered separately: "Primera Parte" extends from the Gulf of California to Texas, "Segunda Parte" extends from West Texas to the Louisiana border, "Tercera Parte" extends from the Gulf of California to Nueva Galicia, and "Quarta Parte" extends from Nueva Galicia to the Gulf of Mexico. All sheets fit together to form the comprehensive map. Except for "Tercera Parte" which indicates that it was copied by Don Luis de Serville, all of the sheets were the work of Urrutia and Lafora alone. The map extends from 248 to 286 longitude and from 22 to 37 North latitude.
This paper has been withdrawn.