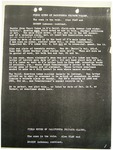 Subject
U.S. National Archives Field Notes, Plats and Docket Indexes for the California Private Land Claims.
Description
Field Notes of California Private Claims – Partly from Chart Index E's, California field-note drawer) showing such field notes as are in volumes, whether governing or not.
Index – California Private Land Claims - Annotated typescript list prepared in Survey Division of General Land Office (Bureau of Land Management). Covers plats, survey field notes and similar records in Plat Room and other sections of the GLO prior to 1952. Arranged alphabetically by name of claimant. Photostat made in National Archives from original typescript copy of the BLM, November 1952.
Maps Separated from Docket Files, List C – Oversized maps and plats, California private land claims, Record Group 49, Records of the General Land Office (Received from NNR Nov-Dec, 1969, filed by docket number).
Source
U.S. National Archives, Maryland
Disciplines
Arts and Humanities | Education | Law | Social and Behavioral Sciences
Recommended Citation
"Field Notes of California Private Claims; also Plat and Docket indexes; combined." (2016). National Archives Documents. 3.
https://digitalcommons.csumb.edu/hornbeck_usa_2_a/3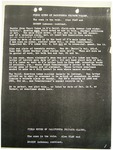 COinS