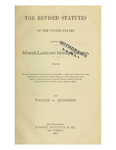 1875 - Revised Statutes of the United States Relating to Mineral Lands and Mining Resources, Walter A. Skidmore
Description
The Revised Statutes of the United States relating to mineral lands and mining resources including circular instructions of the General Land Office, a Digest of Decisions of the Department of Interior and the Opinions of the Attorneys-Generals, along with an appendix of Special Statutes relating to mining, chapters on Water Rights in California and Mineral lands on schools sections in California. The Sutro Tunnel Act and Extracts from Railroad Act are the final chapters.
The chapter on Water Rights from the Civil Code of California, was inserted with the belief that it was the best expression of the custom or common law of the Pacific Coast as to the appropriation of water.
This paper has been withdrawn.