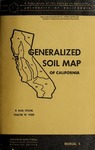 Subject
1951 publication regarding the soils of California.
Description
The 1951 publication provides a generalized soil map of California depicting in a general way the soil geography of California. The map shows four major topographic divisions that are separated into 18 mapping categories and an unmapped south-eastern desert region.
Source
Division of Agriculture and Natural Resources, University of California College of Agriculture.
Disciplines
Education | Life Sciences | Social and Behavioral Sciences
Recommended Citation
"1951 - Generalized Soil Map of California, Manual 6" (2016). Miscellaneous Documents and Reports. 10.
https://digitalcommons.csumb.edu/hornbeck_usa_3_d/10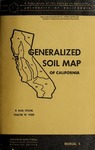 COinS