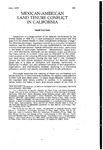 Subject
Mexican and American land tenure systems in California and the resulting conflict.
Description
This paper examines the merging of the Mexican and American land tenure systems and how the two very different concepts of land acquisition, organization and maintenance clashed resulting in a distinctive settlement pattern not usually associated with Anglo settlement. The Mexican landscape, organized according to centuries of Spanish tradition, was the antithesis of the type established by the westward moving American pioneer. Spatial differences were many, particularly in the areas of agriculture, settlement, transportation, space economy and land tenure.
Source
David Hornbeck, Ph.D.
Disciplines
Arts and Humanities | Education | Law | Life Sciences | Social and Behavioral Sciences
Recommended Citation
"1976 - Mexican-American Land Tenure Conflict in California, David Hornbeck" (2018). Miscellaneous Documents and Reports. 53.
https://digitalcommons.csumb.edu/hornbeck_usa_3_d/53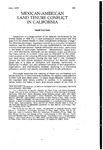 COinS