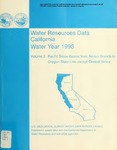 Subject
Annual hydrologic data for the Pacific Slope Basins from Arroyo Grande to the Oregon State Line (except Central Valley).
Description
Volume 2 of the annual hydrologic data report of California is one of a five volume series of annual reports that document hydrologic data gathered from the U.S. Geological Survey's surface- and ground-water data-collection networks in each State, Puerto Rico, and the Trust Territories. These records of streamflow, ground-water levels, and water quality provide the hydrologic information needed by Federal, State, and local agencies, and the private sector for developing and managing the Nation's land and water resources.
Water resources data for the 1993 water year for California consist of records of stage, discharge, and water quality of streams; stage and contents in lakes and reservoirs; and water levels and water quality in wells. Volume 2 contains discharge records for 119 stream flow-gaging stations, 1 low-flow partial-record streamflow station, and 6 miscellaneous measurement stations; stage and contents records for 6 lakes and reservoirs; precipitation records for 3 stations; and water-quality records for 31 stream flow-gaging stations. These data represent that part of the National Water Data System operated by the U.S. Geological Survey and with other agencies.
Source
U.S. Department of the Interior, U.S. Geological Survey
Disciplines
Business | Education | Engineering | Life Sciences | Physical Sciences and Mathematics
Recommended Citation
"1994 - Water Resources Data California - Pacific Slope BasinsWater Year 1993, Vol. 2" (2019). Miscellaneous Documents and Reports. 71.
https://digitalcommons.csumb.edu/hornbeck_usa_3_d/71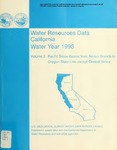 COinS