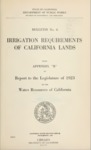 Subject
Irrigation requirements in California
Description
The legislature of 1921 appropriated $200,000 for an investigation of California's water resources by the State Department of Public Works, Division of Engineering and Irrigation. Accordingly, an engineering investigation was completed.
California's agricultural lands are those portions of the state that have suitable soils, disposed in appreciable areas of regular surface conformation, favorable climate, and other requisite conditions for the production of harvestable crops. Included in these, are lands at present deficient in natural moisture, but more or less conveniently situated for the ultimate acquisition of an accessory water supply. These agricultural lands produced, or were capable of producing, the grains, fruits, berries, grapes, vegetables, and the other farm products of the state, and slightly over half of this total agricultural producing area was farmed in 1920.
The increasing demand for California's agricultural products that occurred prior to 1870, was satisfied by dry farming additional areas of land each succeeding year. The curve expressing the expansion of the improved area in farms, showed that this extension of area continued up to the year 1885 with no increase in the area of the total land under cultivation after that date.
Source
California Department of Public Works, Division of Engineering and Irrigation
Disciplines
Business | Education | Engineering | Law | Physical Sciences and Mathematics | Social and Behavioral Sciences
Recommended Citation
"1923 - Irrigation Requirements of California Lands, Bulletin No. 6, Appendix B, Report to the Legislature" (2019). Miscellaneous Documents and Reports. 75.
https://digitalcommons.csumb.edu/hornbeck_usa_3_d/75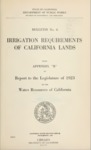 COinS