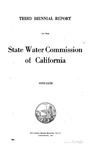 Subject
1920 biennial report of the California State Water Commission
Description
The California State Water Commission was created to carry out the terms of the Water Commission Act passed by the Legislature in 1913, and approved under referendum December 19, 1914. This act provides for a definite record of water right titles and constitutes a code of water law governing the use of surface water and underground water :flowing through known and definite channels, based upon rights by appropriation. It is designed to serve three main purposes.
First-To provide a definite system for public supervision of the initiation of water rights acquired subsequent to the adoption of the act and a complete record thereof in a central office.
Second-To provide a procedure whereby all rights to surface water, under appropriation initiated prior to the date the law became effective (December 19, 1914) and usually uncertain in many important elements, such as amount, priority, etc., can be definitely ascertained and recorded.
Third-To provide necessary administrative machinery under which water can be equitably distributed to the various diversion systems entitled to its use, in other words, to provide state supervision of valuable property rights in water were defined and recorded under the laws of the state.
Source
California State Water Commission
Disciplines
Business | Education | Engineering | Law | Life Sciences | Physical Sciences and Mathematics | Social and Behavioral Sciences
Recommended Citation
"1920 - Third Biennial Report of the State Water Commission of California" (2019). Miscellaneous Documents and Reports. 79.
https://digitalcommons.csumb.edu/hornbeck_usa_3_d/79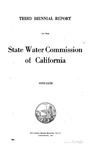 COinS