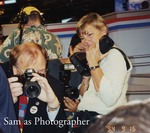 Title
Sam's Commentary on his Photos
1 - Peace Corps 60s - 0:00-2:55 2 - Highway 1 - 2:55-4:41 3 - Sinaloa Tomatoes - 4:42-12:17 4 - Peace Corps - 12:17-15:39 5 - El Salvador - 15:40-18:33 6-7 - Clinton Colombia - 18:33-22:56 8-9 - Grand Canyon, Rocks and Islands - 22:56-24:57 10-11 - Clinton Presidential Library - 24:58-27:05 12-13 - NYC - 27:05-30:08 14 - DNC - 30:09-34:28 15 - SOTU - 34:28-37:04 16 - Dennis Kucinich - 37:04-37:53 17 - Press Staff - 37:53-38:34 18 - Audience - 38:34-39:00 19 - Pelosi Majority Leader - 39:00-39:52 20 - Women of Congress - 39:52-40:22 21 - Social Security Protest - 40:22-42:13 22 - Cuba - smiling kids - 42:13-42:35 23 - Cuba - boxing kids - 42:35-42:42 24 - Cuba - Stilt walkers, Buildings, Laundry - 42:42-48:15 25 - Cuba - Billboards - 48:15-50:09 26 - Cuba - Cigars - 50:09-50:48 27 - Cuba - Doctors - 50:48-53:05 28-29 - Cuba - Guards marching, Ballet dancers - 53:05-53:26 30-31 - Cuba - Fidel mural, District 7 - 53:26-54:50 32 - Cuba - Pink Cadillac - 54:50-55:38 33 - Cuba - Wiring - 55:38-56:01 34 - Cuba - Art district - 56:01-57:39 35 - Israel and Turkey - 57:39-1:01:28 36 - Aspen - Panama - 1:01:28-1:08:25 37 - Aspen - Ethiopia - 1:08:25-1:15:39 38-39 - Inaugurations - Clinton, Bush - 1:15:39-1:16:06 40 - Inaugurations - 1:16:06-1:17:12 41-43 - Inauguration 2009 - 1:17:12-1:18:32 44 - Delegates - 1:18:32-1:18:46 45 - DC Code Talkers, Jim McDermott and Charlie Rangel - 1:18:46-1:21:20 46-47 - White House - 1:21:20-1:23:07; 1:23:07-1:24:43 48 - Selma - 1:24:43-1:27:15 49 - Art Corridor - 1:27:15-1:29:01 50 - Colombia - Tres Esquinas - 1:29:01-1:31:33 51 - Colombia - Anne Patterson, Santos with Juan Valdez - 1:31:33-1:35:44 52 - Colombia - funicular, vendors - 1:35:44-1:39:16 53-54 - Colombia Maureen Orth - 1:39:16-1:43:33 55 - Independence Day parade - 1:43:33-1:44:15 56-57 - Pope in DC - 1:44:15-1:44:52 58 - Cuba - Andrews Airfield - 1:44:53-1:45:37 59 - Cuba - Outing - 1:45:37-1:46:03 60-61 - Cuba - flags, Obama - 1:46:03-1:46:49 62-63 - Cuba - Women - 1:46:49-1:47:28 64 - Cuba - Bus - 1:47:28-1:47:35 65 - Cuba - Dinner - 1:47:35-1:48:29 66-67 - Cuba - Baseball - 1:48:29-1:49:13 68 - Photographers - 1:49:13-1:49:33 69 - White House Christmas - 1:49:33-1:50:14 70 - Staff retreat in Salinas - 1:50:14-1:50:57
Description
A selection of photos taken by Sam Farr during his time with the Peace Corps and as a Congressmember from 1993-2016. The collection highlights Sam's artistic and journalistic eye as he captured moments around the world and his district, California's Central Coast.
Date
1963-1964, 1993-2016
Keywords
Farr, Sam; Monterey (Calif.); Photography
Type
Mixed media, Image, Audio, Text
Rights
This content is provided for research and educational purposes only. Responsibility for securing permissions from the copyright holder(s) to distribute, publish, reproduce or use in any way rests exclusively with the user.
Recommended Citation
Farr, Sam, "Sam as Photographer" (2019). Sam as Photographer. 1.
https://digitalcommons.csumb.edu/samfarr_samasphotographer/1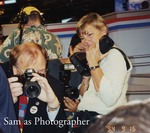 COinS