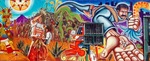 Files
Download Módulo 1: Segunda parte (97 KB)
Download Módulo 1: Tercera parte (120 KB)
Download Módulo 1: Cuarta parte (3.6 MB)
Download Módulo 1: Quinta parte (Producción de narración) (72 KB)
Download Módulo 1: Sexta parte (Producción de proyecto híbrido) (91 KB)
Download Módulo 1: Preguntas para reflexionar sobre producción de narración (47 KB)
Download Módulo 1: Preguntas para reflexionar sobre producción de proyecto híbrido (49 KB)
Publication Date
Spring 4-20-2016
Department
World Language and Cultures
Course Number
Spanish 212
Context of Activity or Assignment
This is the first module of an instructional course for Spanish Heritage Speakers. Focus of this module: Narrative writing; preterite and imperfect; the syllable; accents (palabras esdrújulas y agudas); two production projects: writing of a narrative and "narrative with images/video" (hybrid project).
Purpose of Activity or Assignment
By the end of this module, students should be able to:
1. Identify and name characteristics of the narrative genre;
2. Identify the rules for and correctly use the preterite and imperfect;
3. Identify the rules for the accentuation of palabras agudas and esdrújulas and correctly apply them;
4. Write a narrative of at least 300 words;
5. Understand the rules behind the production of visual "texts";
6. Produce a visual narrative using images and video.
Activity / Assignment Type
Other
Undergraduate Learning Outcome
ULO 4: Specialized Knowledge
Final Deliverable
Multimedia Project
Recommended Citation
Zapata, Gabriela C., "Spanish for Heritage Speakers: Instructional Module #1" (2016). Activities and Assignments Collection. 1.
https://digitalcommons.csumb.edu/teaching_all/1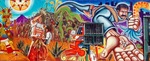 COinS