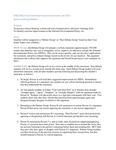 Department
Environmental Studies
Context of Activity or Assignment
In the Area A Community of Practice, I shared an assignment that I used for a course at a previous institution; however, we discussed that it would be useful for courses that are developing oral and written communication skills and promoting active listening. The assignment was used to facilitate critical thinking, active listening, and oral and written communication about a complex (and sometimes controversial) topic in environmental policy.
Purpose of Activity or Assignment
Students will practice critical thinking, active listening, and the development and presentation of arguments and positions through oral and written communication.
Potential Pitfalls and Teaching Tips
When I have run the assignment, I have repeated it 3-4 times in a semester course. Because there are many details to the activity, students need reinforcement for what to do when. But once they understand the process, it is very powerful. Students have commented that the active listening is hard, and takes conscious effort, but they also find they have more nuanced understanding of issues as a result. Giving students terminology for asking clarifying questions and restating positions is helpful.
Activity / Assignment Type
Case Study
Additional Activity / Assignment Type
Discussion
Undergraduate Learning Outcome
ULO 1: Intellectual Skills
Recommended Citation
Derr, Victoria, "Active Listening "Debates" - Classroom Activity" (2016). Activities and Assignments Collection. 5.
https://digitalcommons.csumb.edu/teaching_all/5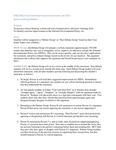 COinS