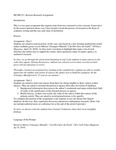 Title
Publication Date
Fall 9-15-2018
Department
Human Communication
Context of Activity or Assignment
This is a two-part assignment I created for my HCOM 211 course, Reading, Writing, and Critical Thinking, as a way to make students aware of the use and breadth of sources common in academic writing as well as instruct them in methods of attribution. This assignment could easily be adapted to a GWAR course as a means of teaching writing and research within the discipline.
Purpose of Activity or Assignment
Students are introduced to academic research and writing with a focus on methods of attribution.
Potential Pitfalls and Teaching Tips
I do not include authorial notes or a reference list at the end of the primary article I provide to students. In this way, students are invited to experience discovery and process rudimentary research themselves.
Activity / Assignment Type
Research
Additional Activity / Assignment Type
Writing
Undergraduate Learning Outcome
ULO 1: Intellectual Skills
Final Deliverable
Worksheet
Recommended Citation
de la Llata Aimé, Robin, "Reverse Research" (2018). Activities and Assignments Collection. 8.
https://digitalcommons.csumb.edu/teaching_all/8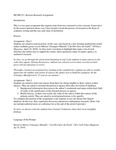 Included in
COinS