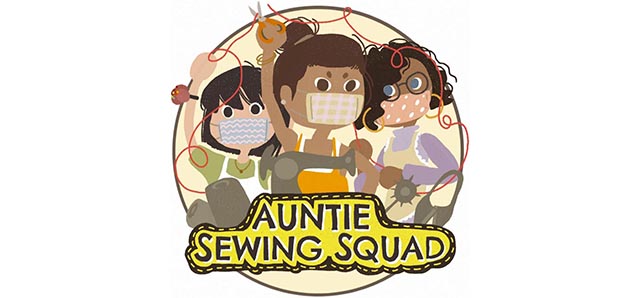 Introduction
Welcome to the student-led Auntie Sewing Squad Oral History Archive! This oral history archive was created as part of a final project for Dr. Chrissy Yee Lau's course, SBS 112: Women and Social Change in the U.S. From the 1890s to the Present Day, in the fall of 2020 and spring of 2021, and SBS 322: Asian American Women's History in the spring of 2021.
This oral history archive derives from a genealogy of community-based oral history projects that aims to redress the historical absence of women's lives from archival collections. Throughout CSUMB's first fully online semester, SBS 112 students worked with oral history archives that centered women's voices during significant historical events, including the Federal Writers Project in the New Deal, the WWII Rosie the Riveter Archive, and the Chicana Feminism Oral History Project. This class emphasizes student-led oral histories and takes its cue from Grace Yoo's first class on the Auntie Sewing Squad at San Francisco State University. Oral histories provide opportunities for students to drive the interview and Aunties to pass on their stories. Students created an archive dedicated to the histories and activism of the Auntie Sewing Squad during Covid-19.
The Auntie Sewing Squad was founded on March 24, 2020 by performance artist Kristina Wong who organized a group of Asian American women as a casual effort to sew homemade masks in the absence of the federal government's failure to provide personal protective equipment. Originally intended as a three week stopgap, the Auntie Sewing Squad sewed over 400,000 masks until their retirement a year and half later in September of 2021. The Squad exploded into a network of hundreds of active Aunties, Uncles, and Unties, across the United States who prioritized sending masks to communities disproportionately affected by COVID-19 because of long standing structural inequalities, particularly Black, Indigenous, People Of Color (BIPOC) communities across the North American continent.
Much like the core value of the Auntie Sewing Squad that primarily serves BIPOC communities who have been disproportionately impacted by institutional racism, oral history is a history from below. In response to top-down histories that are primarily centered on written documents, oral history is a tool that historians use to capture communities with oral traditions or whose histories did not get preserved in formal archival institutions. Oral history is a significant tool to record histories of marginalized communities who have been overlooked by top-down histories, particularly BIPOC. This oral history archive aims to capture the histories and perspectives of members of the Auntie Sewing Squad through their own voices.
Like any scholarly discipline, student practitioners can and must be trained in the practice of oral history. Our class oral history workshop included the following steps: 1) Research 2) Finding Interviewees and Creating a Question Guide 3) Conduct Interview 4) Transcribe Interview 5) Build a Public Archive. For research, we read the leading oral historian Judy Yung's article "Giving Voice to Chinese American Women." After completing their interviews, student practitioners of SBS 112 created a "Best Practices" guide for future oral historians.
The purpose of this oral history archive is to provide and make available oral histories for public use. This archive can be utilized in a variety of ways. First, educators can use these oral histories for pedagogical purposes. These oral histories can be assigned as texts or utilized in lesson plans in the classroom. Second, researchers can utilize these oral histories for their manuscripts. These oral histories can be used for scholars interested in gender and women's studies, Asian American studies, and history. And finally, artists and producers can utilize these oral histories in their social media projects. These oral histories can be utilized in films or podcast episodes. Please follow our citation recommendations.
Highlights from the Auntie Sewing Squad Oral History Archive
Mutual Aid
Kristina Wong reflects on high-stakes questions of Covid-19 realities that might interrupt the grassroots operation of a shadow government FEMA with a group of Aunties.
Badly Licked Bear discusses how their primary role as coordinator for campaigns to Indigenous communities directly reflects their position that Covid-19 is a political crisis.
Judy Heyboer articulates how sewing, knitting, and other forms of crafting enable her to participate in mutual aid projects like Afghans for Afghans and the Auntie Sewing Squad.
Black Lives Matter
Laurie Bernadel shares some Black Girl Magic on how to pick a major and navigate family expectations in a mentorship session with college students.
Linda Lee reveals how honest conversations with her daughter and public statements of influential youth have reshaped her opinions on the Black Lives Matter Movement.
Katy Korkos reflects on her antiracist political influences, particularly her family's legislative support for the Rumford Fair Housing Act of 1964 and Civil Rights Act of 1965.
Religion and Politics
Young Mi Chi discusses her conviction that Christians have not done enough for resource-poor communities and her opposition to the religious right's support of Trump.
Emily Duffy shares how Paganism has influenced her activism, such as campaigning for Howard Dean's presidency and her membership in the Auntie Sewing Squad.
Duyen Tran explains how Buddhism shapes her community organizing around transit access and environmental justice, as well as her approach to mental health and Auntie Care in the Auntie Sewing Squad.
U.S. Military Industrial Complex
Rocio Villanueva shares how she came to sewing as therapy and public service during the everyday stress of Covid-19, especially as a U.S. war veteran who suffers from post-traumatic stress disorder (PTSD) and military sexual trauma (MST).
Kathleen Smith reflects on how her participation in the anti-Vietnam War protests and the farmworkers boycott led her to a more expansive understanding of public health.
Judy Evind discusses why she became involved in the anti-Iraq war protests during the Bush administration and later the Auntie Sewing Squad during the Trump administration.
Anti-Asian Hate and Violence
Gayle Isa discusses her role as care coordinator and the organizing of self-defense workshops for members of the Auntie Sewing Squad during the spike in anti-Asian violence.
Kathleen Wong Lau reflects on her upbringing among BIPOC communities in Oakland and assesses why more policing is not the solution to preventing hate crimes.
Anne Bagasao shares about community conversations where Aunties had to educate and defend why violent incidents needed to be considered as hate crimes.
This oral history archive would not be possible without the labor and love of many folks. First, thank you to the resilient students of SBS 112 and 322 for conducting oral histories. Second, thank you to the amazing members of the Auntie Sewing Squad for volunteering their time and stories. And finally, thank you to John Brady, librarian at CSUMB, for organizing the digital archive. For any questions, please contact Dr. Chrissy Yee Lau at clau@csumb.edu.
Browse the Auntie Sewing Squad Oral History Archive Collections: