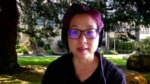 Biography
Valerie Soe is a fourth generation Asian American woman from the San Francisco/Berkeley area. She is a documentary and experimental filmmaker, known for her films Love Boat: Taiwan and Radical Care: The Auntie Sewing Squad. Additionally, she is a Asian American Studies professor at San Francisco State University. She is an original member of the Auntie Sewing Squad since March of 2019.
Thematic Summary
Childhood/Family/ Early Life: 00:01:08
This section covers Soe's experience as an Asian American Woman in the Bay Area during her early life, her exposure to her Asian American culture, and the pressure of assimilation to the American culture she experienced throughout her early years.
High School/ Higher Education: 00:04:17
This section covers the way in which Soe was able to find her passion within politically inclined activism, the Arts and Asian American Studies. Inclusively, she touches on her experience attending UCLA as an undergraduate, as well as her experience in Chicago as a graduate student.
Career- Filmmaker/Professor: 00:07:40
This section covers Soe's career as a documentary and experimental filmmaker, and touches on the impacts of COVID-19 within the film industry. Additionally she covers how it is to be a professor in such a diverse area, and how this pandemic has affected the way in which her teaching has had to adapt.
Auntie Sewing Squad Experience: 00:21:34
How Soe first found out about the Auntie Sewing Squad, as well as memorable instances while being part of this amazing group.
Interviewer
Yazmin Vallejo-Gonzalez
Recommended Citation
Soe, Valerie, "Interview with Valerie Soe" (2020). Auntie Sewing Squad Interviews. 29.
https://digitalcommons.csumb.edu/auntiesewing_interviews/29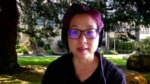 COinS