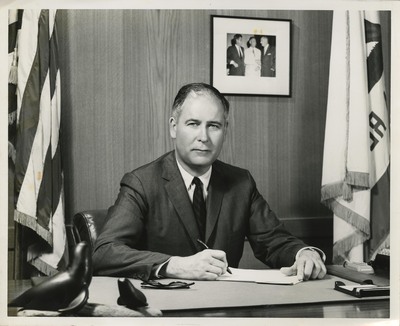 Frederick S. [Fred] Farr was born on August 2, 1910 in Oakland and raised in Piedmont, California. Prior to his political career, Farr worked in private law practice in San Francisco. During World War II, Farr served in the Maritime and War Shipping Administrations in Washington and later as Labor Relations Director for the Port of New York. Following the war, he worked as a labor relations consultant in San Juan, Puerto Rico.
Fred Farr's political career began in 1955, when he was elected to the California State Senate, becoming the first Democrat in 43 years to represent Monterey County. During his twelve years in the senate, Farr focused much of his legislative effort on environmental protection, authoring significant environmental and state planning legislation, and establishing California's scenic highway program. In addition, Farr introduced bills to abolish the death penalty, and he was instrumental in passing legislation requiring toilets in the fields for farmworkers.
Following his defeat in the 1966 state senate election, Farr was appointed national coordinator of highway beautification for the U.S. Department of Transportation under the Johnson administration. In 1969, Farr returned to his law practice on the Monterey Peninsula. Following his return to California, Farr served as commissioner of the California State Coastal Commission, the president of the California Historical Society, and as a board member of the Monterey Bay Aquarium. He continued to serve in a variety of civic organizations until his death on June 10, 1997, at the age of 86.
Browse the Fred Farr Papers Collections:
Radio Broadcasts and Other Recordings