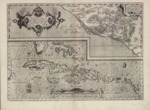 Subject
A two-part 1588 map displayed on a single page, the bottom half depicts the Culicanae region located in the western portion of Mexico with the top half detailing Florida and the surrounding Caribbean islands.
Description
Divided into two sections, the map was published in the 1588 edition of Abraham Ortelius' atlas entitled, "Theatrum Orbis Terrarum." The top half of the map depicts the western Culicanae region of Mexico. The lower portion of the map shows Florida and the Caribbean region and includes the tip of the Yucatan. It names and shows in detail many of the Caribbean islands, including Cuba, Hispaniola, Jamaica, St. Jois Insula (St. Johns), Bahamas and Virgin Islands as well as the Windward Islands.
Source
Cartographic and Study Archive, Geographic Center of the Army, Madrid, Spain.
Disciplines
Arts and Humanities | Education | Social and Behavioral Sciences
Recommended Citation
"1588 - Culiacanae, Americae Regionis descriptio - Hispaniolae Cubae aliarumque insularum circumiacentium delineatio" (2017). Pre-1824 Maps. 23.
https://digitalcommons.csumb.edu/hornbeck_spa_1_a/23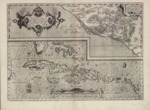 COinS