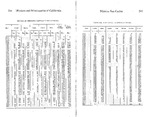 Subject
Summary of annual reports required by the Spanish and, subsequently, Mexican governments regarding California mission agricultural products and on the livestock.
Description
The annual reports for each California mission were required to include an accounting of the agricultural products (wheat, barley, corn, beans, peas) and livestock (cattle, sheep, goats, pigs, mules, horses). The content of the tables compiled by Zephyrin Engelhardt came from official mission records.
Source
Santa Barbara Mission Archive-Library, Mission San Carlos Borromeo (Carmelo), by Fr. Zephyrin Engelhardt, O.F.M., 1934.
Disciplines
Arts and Humanities | Education | Life Sciences | Social and Behavioral Sciences
Recommended Citation
"1934 - Material Results at Mission San Carlos Borromeo (Carmelo), Agricultural Products and Livestock Tables, 1772-1832, Engelhardt (courtesy of the Santa Barbara Mission Archive-Library)" (2017). Miscellaneous Publications – Spanish. 10.
https://digitalcommons.csumb.edu/hornbeck_spa_4/10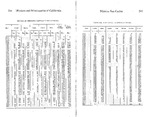 COinS