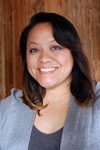 Interview with Jocelyne Ampon
The following oral history is the result of a recorded interview conducted by a CSUMB student. The audio and draft transcript have not been edited for accuracy. This interview is part of the Oral History Community Memory Archive. The researcher is asked to bear in mind that they are listening to an original recording, and reading a verbatim transcript of the spoken word, rather than written prose.
Description
Jocelyne Ampon is a production manager who was born in Palo Alto, California in 1981. Her passion is performance arts and she is currently a panelist for Rainbow Speakers of Monterey County. She has been involved with several festivals including San Francisco International Arts Festival, San Francisco International Children's Games, National Queer Arts Festival, United States of Asian America Festival, Eat Real Festival, & Folsom Street Fair. In college she was a leading member of a community service fraternity, and through that organization participated in several events, the most memorable being the annual on-campus AIDS Awareness Week.
This paper has been withdrawn.