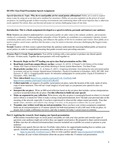 Publication Date
Spring 3-10-2022
Department
Human Communication, Liberal Studies, Visual and Public Art
Course Number
Courses in VPA, Liberal Studies, Extended Learning, HCOM
Context of Activity or Assignment
The researched speech on social justice through public art activity can be used or integrated in classes that support participation that builds and strengthens social capital and norms.
Purpose of Activity or Assignment
Students could learn the power of using a researched context speech based on social justice through the arts, to engage the audience in policy reform in areas such as healthcare, immigration, or the criminal justice system to remedy potential biases toward certain demographic groups.
Potential Pitfalls and Teaching Tips
Students that are new or unfamiliar with the power of social justice within public art could approach the topic, based on their limited experience, as simply an approach and not present the "Might" or intrinsic energy of public art it posses to achieve change. Also, shyness or fear of public speaking could limit a students persuade voice through softly spoken words with a lack of coincidence.
Activity / Assignment Type
Presentation
Undergraduate Learning Outcome
ULO 1: Intellectual Skills
Recommended Citation
Silguero, DeBorah, "Why do we need public art for social justice affirmation?" (2022). Activities and Assignments Collection. 13.
https://digitalcommons.csumb.edu/teaching_all/13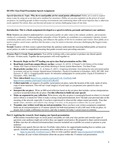 Included in
COinS